MANDUKA PROLITE MATS - THUNDER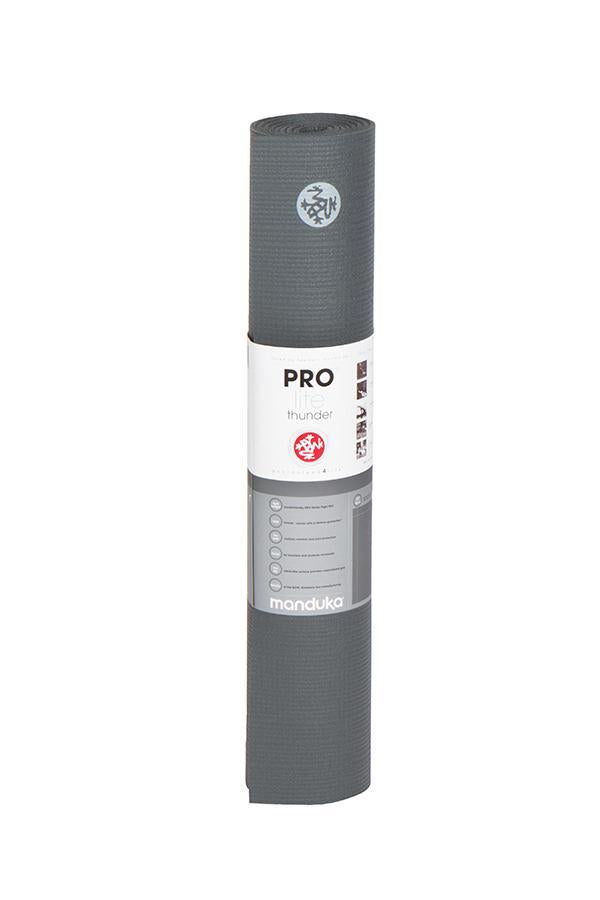 Designer: Manduka
overview
A mid-sized yoga mat that brings unmatched cushioning and comfort to your practice. The PROlite® will never wear out, guaranteed. 

Standard: 4 lbs; 71" x 24"; 4.7 mm thick

Long: 4.5 lbs; 79" x 24"; 4.7 mm thick 

Sweating a lot? We recommend pairing this with one of our performance towels.
features
High-density cushion, joint protection, and unmatched support.
Guaranteed to never wear out from yoga practice.
Closed-cell surface prevents sweat from seeping into the mat and breeding bacteria.
Sustainable engineering ensures high quality material will never peel, flake or fade.
Non-toxic, emissions-free manufacturing, 100% latex free.
use & care
To Store: Roll Manduka PRO mats with the top side (fabric-finish) facing outwards. This keeps the corners of the mat flat when practicing.

To Break In: The surface texture of Manduka PRO mats improves with use. The best way to break in your mat is practice, practice, practice, but if you want to speed things up a little, try a simple salt scrub. 

To Clean: Keep your mat in the best condition by wiping it down after every practice with Manduka All-Purpose Mat Wash. It's specially formulated to clean your mat without damaging the surface or causing slippage. DO NOT soak, shower or submerge your mat in water.
sustainability
Designed to last a lifetime (or two), Manduka PRO series yoga mats curb the amount of PVC mats that enter landfills every year and reduces overall mat consumption (check out our Lifetime Guarantee). During the manufacturing of most PVC products, toxic emissions may be released into the air. However, PRO series mats are manufactured through a process that ensures no toxic emissions are released into the atmosphere. The Manduka PRO is certified safe for human contact by OEKO-TEX®*, a material certification agency in Europe for the textile industry.
*Standard 100 by OEKO-TEX® certificate no. 12.HUS.17706 by Hohenstein
To learn more, read about our manufacturing philosophy.