Manduka eKO lite Mat 4mm 71" - Carval Marble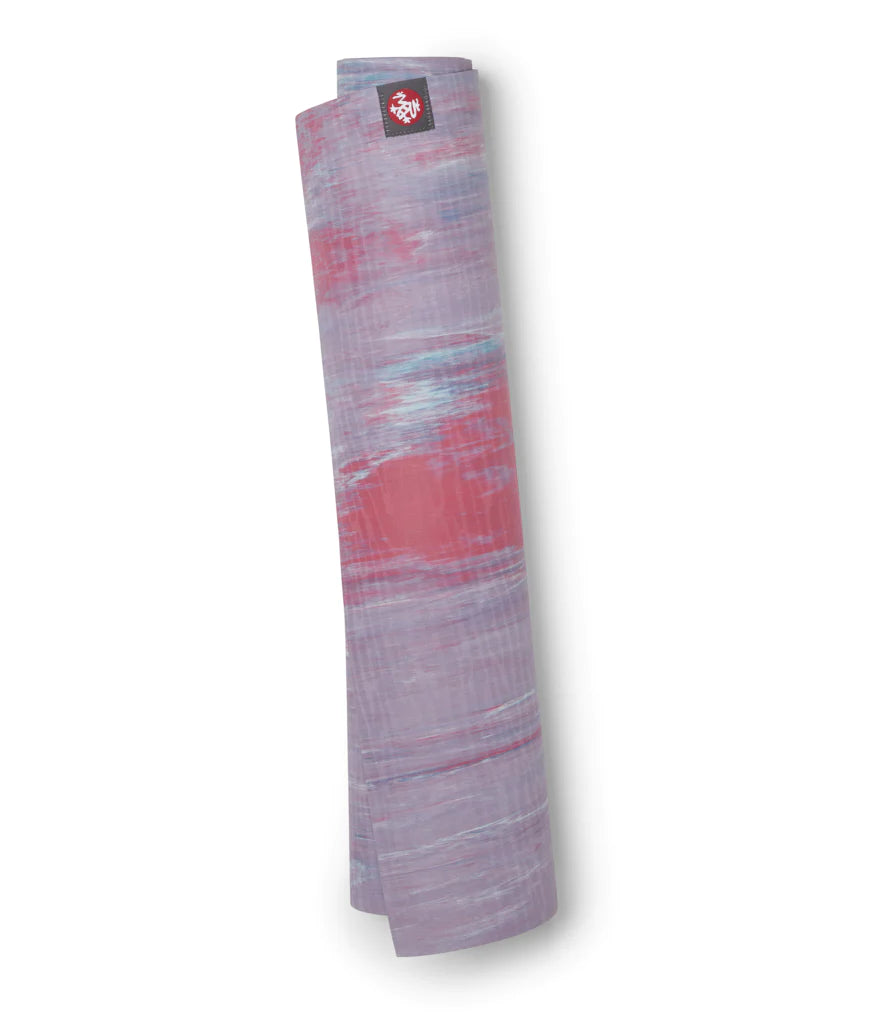 Designer: Manduka
Overview:
The eKO® Lite yoga mat provides a naturally grippy surface. Eco-friendly and biodegradable, this non-Amazon harvested tree rubber mat firmly supports both your practice and our planet.
All eKO® Series mats have a closed-cell surface, which will never absorb moisture. Because of this, if you are warm/sweaty at all, the mat will feel slippery, so we always recommend pairing it with one of our hand towels to absorb moisture and provide extra traction or to apply our Yoga Grip Gel during your practice. If you're practicing hot yoga, we recommend a mat towel for full mat coverage. For towel guidance read our Guide to Yoga Towels and check out this blog post for more tips to decrease slip and increase grip.
The marbled and striped colors are hand-processed and have unique patterns. We can't guarantee the mat will match the image exactly.
99% Latex-free. Not recommended for those with Latex sensitivities.
Features:
      •  5.0 lbs; 71" x 24"; 4 mm thick

Standard: 2.3kg; 180cm x 61cm; 4mm thick
Long: 2.6kg; 200cm x 61cm; 4mm thick 
Developed by yoga teachers over 4 years
Most durable natural rubber yoga mat on the market
Made with a unique closed-cell top surface which prevents moisture from entering the mat, keeping it clean and in good condition longer than other natural rubber mats
Catch-Grip technology provides the perfect balance of grip and drag which allows you to flow effortlessly between poses
Made from biodegradable, non-Amazon harvested, natural tree rubber with non-toxic foaming agents and non-AZO dyes
Due to their biodegradable nature, the eKO® Series is not recommended for a daily vigorous practice
Usage of the eKO® Series in a hot environment requires regular care to maintain the performance of the rubber
99% Latex-free. Not recommended for those with Latex sensitivities
No PVC
No harmful plasticizers
Pro Tip: Natural rubber provides a semi-sticky grip, but since it won't absorb sweat, we always recommend pairing your practice with our eQua® hand towels or yogitoes® hand towels (read our Guide to Yoga Towels) to absorb moisture and increase grip or improve your grip with our Yoga Grip Gel
Use & care:
For daily refresh: Keep your eKO® mat smelling fresh and clean by wiping it down after every practice with Manduka's Mat Wash & Refresh. Use a clean cloth to wipe the mat dry before rolling or using. 
For monthly restore: Maintain the performance of your eKO® mat by applying Manduka's Natural Rubber Yoga Mat Restore once a month. Allow the cleaner to sit for 5 minutes and then use a clean cloth to gently wipe the mat dry before rolling or using.
For thorough clean: Use Manduka's Botanical Mat Cleaner.
For further mat care guidance, check out our Mat Care Guide.
DO NOT put the eKO® Series in the washing machine, as it will damage the mat and increase the breakdown of the rubber mat
DO NOT soak or submerge the eKO® Series in water
DO NOT use the salt method on the eKO® Series
Usage of the eKO® Series in a hot environment can dry out the rubber and thus loose performance and reduce flexibility of the material. If used in hot areas, ensure to use the Natural Rubber Yoga Mat Restore more regularly to maintain performance
Always ensure your mat and the floor are completely dry before placing your mat on the floor. A wet mat or wet floor can cause color transfer and staining to the floor
To store: Do not leave the mat exposed to direct sunlight. If wet, allow the mat to dry before rolling up. For best performance, when not in use, keep the eKO® Series rolled and in a bag or cover, as prolonged air and sun exposure can damage the rubber on the mat.
Sustainability:
The eKO® Series is a natural yoga mat made from sustainably harvested tree rubber. Unlike other rubber mats available today, the foaming agents used to create the eKO® are non-toxic. What this means is that no toxic chemicals have gone into the manufacturing process to soften the rubber. eKO® Series mats are the most durable natural rubber mats on the market, which means the mat will last longer before you have to replace it, therefore creating less waste.